Nathan Mann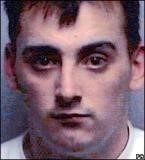 AKA
DOB
1988
Occupation
Kill Total
3
Kill Place
Leicester & HMP frankland
Kill Date
2007 & 2011
M.O.
Beating, Suffocation, Knife
Victim
Rashmi Badiani - 56

Radhaben Chauhan - 72

Michael Harrison - 23
7th November 2007, 19-year-old Nathan Mann entered Hayes Park Nursing Home, Leicester with the intention of robbing it.
He broke in through a downstairs window which was actually the bedroom of two residents. Rashmi Badiani aged-56, and Radhaben Chauhan aged-72. They were found at 4am the following morning by staff. Mrs Badiani had suffered massive head injuries and Mrs Chauhan had been smothered with her bedclothes.

Monday 14th July 2008, Mann, of Avonside Drive, Crown Hills, Leicester, pleaded guilty to two charges of murder when he appeared at Nottingham Crown Court.

Thursday 31st July 2008, Mann was sentenced to life imprisonment with a recommendation he serve a minimum of 24 years.

Saturday 1st October 2011, Nathan Mann and accomplice, Mitchell Parr, lured convicted peadophile Mitchell Harrison, aged-23, into Mann's prison cell where Michael Parr pinned him down and Mann cut his neck with a scalpel made from plastic cutlery and a razor blade, he also tried to snap his neck. the pair then cut open his stomach with the intention of eating their victims liver, but they could not carry it through.
Mann calmly walked out of the cell, to a prison guard, where he said "there is a dead man in the cell".
When asked why they had done it, Mann said the two men had fanaticised about killing and eating someone, Harrison had annoyed them as he was arrogant.
Harrison was serving a 4 year sentence for raping a 13-year-old girl.

Monday 3rd October 2011, Mann and fellow prison inmate Michael Parr appeared at Peterlee Magistrates' Court, Co Durham, accused of killing Mitchell Harrison at HM Prison Frankland.

Wednesday 4th October 2011, The pair appear at Newcastle crown court charged with murder.

Thursday 12th July 2012, Mann pleaded guilty to manslaughter on the grounds of diminished responsibility. He was jailed for a further 16 years.
Parr pleaded guilty to murder and was sentenced to a minimum 32 years, he was currently serving a life sentence for attempted murder of a hospital patient.
At Newcastle Crown Court, the Judge Mr Justice Openshaw said it was unlikely that the pair would ever be released.

7th August 2020, Prison officer Alan Johnson, aged-59, was allegedly left mentally scarred after witnessing peadophile Mitchell Harrison be disembowelled in front of his eyes has won a £125,000 payout.
Mr Johnson was working at HMP Frankland, Durham, when he witnessed the horrific attack by Nathan Mann & Michael Parr, on convicted paedophile Mitchell Harrison.