Lakhvir Kaur Singh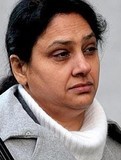 | | |
| --- | --- |
| AKA | Curry Poisoner |
| DOB | 1970 |
| Occupation | Chef |
| Kill Total | 1 |
| Kill Place | London |
| Kill Date | January 2009 |
| M.O. | Poisoning |
| Victim | Lakhvinder Cheema - 39 |
| | |
| --- | --- |
| Court | The Old Bailey |
| Judge | Paul Worsley |
| Prosceution | Edward Brown, QC |
| Defence | |
| Case No: | |
Lakhvir and Lakhvinder Cheema had been lovers for 15 years prior to his engagement to Gurjeet Choongh - an arranged match - whom Lakhvir accused her of seeking to marry Lucky only to obtain residence in Britain.
Lakhvir Singh was allegedly consumed with jealousy, she procured the poisonous herb from India and then gained access to Lucky's house, where she put the poison into their curry.
26 January 2009, while Mr Cheema was abroad receiving treatment for cancer, Singh went to his house and put the poison in a container that held the curry.
Wedneday 28th January 2009, Lakhvinder Cheema also known as "Lucky", aged 39, and his fiancée Gurjeet Choongh aged 21, settled down at his home in Feltham, West London, to eat a curry.
Within an hour he had lost the use of his arms and legs. His sight went, and his heart bega4n to fail with his blood pressure dropping.
Lucky died the same night in West Middlesex hospital, his fiancée was placed into a coma for two days by doctors, to give them time to identify the poison, and administer an antidote. Despite being in a critical condition she survived the ordeal by eating a smaller portion of the curry.

Saturday 31st January 2009, Police arrested 49-year-old Ms. Lakhvir Kaur Singh.
Ms Singh appeared at Ealing Magistrates court charged with the murder of Mr Cheema, and the attempted murder of Gurjeet Choongh. When she was arrested a small packet of poison was found in her coat pocket and another in her handbag. After her arrest, Singh tried to blame her brother-in-law, Varinder, for the death. But a lodger at the house saw her take a container with the curry out of the fridge earlier in the day.

Wednesday 10th February 2010, Ms Singh found guilty of murdering Mr. Cheema, but found not guilty of the attempted murder of Gurjeet Choongh, but, the jury did find her guilty of causing Grievous bodily harm with intent.

Thursday 11th February 2010, The jury cleared Singh of a further charge of administering poison to Mr Cheema in December 2008.
The Judge sentenced Ms Singh to life, with a minimum term of 23 years.

Expert forensic analysis identified that Aconite was present in both of the victims and the remains of the curry they ate.

The last time an English court convicted anyone of using the poison was in an infamous case surrounding the murder of an 18 year old man by his brother-in-law, a doctor named George Henry Lamson, who was hanged in April 1882.

Indian Aconite, known as the 'queen of poisons', is found in the Himalayan foothills and known in India as Halahal — the poison that mythology holds turned Shiva's neck blue.

Back >>