Christopher Halliwell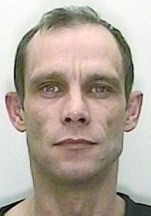 | | |
| --- | --- |
| AKA | |
| DOB | 1964 |
| Occupation | Taxi Driver |
| Kill Total | 2 + ? |
| Kill Place | Swindon |
| Kill Date | 2007 & 2011 |
| M.O. | Strangulation |
| Victim | Becky Gooden-20 Sian O'Callaghan-22 |
| | |
| --- | --- |
| Court | Bristol Crown Court |
| Judge | Sir John Griffith Williams |
| Prosceution | Nicholas Haggan QC |
| Defence | |
| Case No: | |
Aged 20, Haliwell was serving a prison term for raiding stately homes and stealing antiques. He asked his cellmate; 'how many people do you have to kill to become a serial killer?', and, 'have you ever thought about strangling your girlfriend?'. This came to light during the police investigation into the two murders.

March 2007, 20-year-old prostitute Becky Gooden took Haliwell as a client, he got jealous of her having sex with other men and became possessive. He strangled her. He then dumped her body in a hedge near to Eastleach in Gloucestershire, returning days later to bury her naked body in a shallow grave, where she lay undiscovered for eight years.

March 2011, Haliwell abducted Sian O'Callaghan after picking her up in his taxi at a nightclub in Swindon.

31st May 2012, Haliwell appeared at a hearing where he pleaded not guilty to the murder of Sian O'Callaghan.

19th October 2012, Halliwell appeared at Bristol Crown Court and changed his plea to guilty to the murder of Sian O'Callahan. He was sentenced to life imprisonment with a minimum tariff of 25-years.
14 December 2012,
The Court of Appeal upheld the sentence after an appeal.
June 2014
, Police forensic & search teams find boots belonging to miss O'Callaghan in a remote pond, they also find many other items of women clothing.
Monday 19th September 2016,
Haliwell laughed as a guilty verdict was given for the murder of Becky Gooden.
Friday 23rd September 2016,
At sentencing, Judge Sir John Griffith Williams ordered that Haliwell was sentenced to life, handing him a Whole Life Tariff, meaning he will never be released. For a list of thse on Whole Life Tariff, click
here >>
Police believe Haliwell may have been involved in other murders.