Angus Sinclair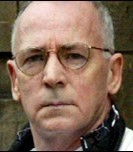 AKA
Worlds End Murders
DOB
1945
Occupation
Painter
Kill Total
8 ?
Kill Place
Scotland
Kill Date
1971, 1977 & 1978
M.O.
Stranngulation / beating
Victim
Catherine Reehill-8.

Christine Eadie-17; Helen Scot-17.
Worlds End Trial
| | |
| --- | --- |
| Court | High Court of Justiciary |
| Judge | Lord Matthews |
| Prosecution | Frank Mulholland |
| Defence | |
| Case No: | |
1959,
Sinclair's first brush with the law was when he was 13-years-old, when he stole from a Glasgow church. He received 12-months' probation for the crime.
Later that year Sinclair appeared at Glasgow Sheriff Court on a housebreaking charge, for which he was later found innocent.
1961
Sinclair's life of crime took a new twist when he was found guilty of lewd behaviour against an eight-year-old girl, he was given three years' probation
Seven months into that probationary period he murdered for the first time.
Catherine Reehill was eight years old in 1961, when Sinclair sexually assaulted and strangled her at his home. He threw her body down a stairwell and told the little girl's mother that the death had been an accident.
After being questioned by detectives Sinclair confessed to culpable homicide and was sentenced to 10-years in jail.
While in Edinburgh's Saughton Prison serving his sentence for Catherine's murder, he trained as a painter and decorator.
1970,
Sinclair married trainee nurse, Sarah McCulloch in Edinburgh and two years later they had a son Gary whom they brought up in Glasgow.
15th October 1977, 'The Worlds end Murders', Christine Eadie, aged-17, and Helen Scott, also aged-17, were killed on a lonely footpath in Edinburgh. The case was named because both victims were last seen alive leaving The World's End pub in Edinburgh's Old Town.
November 1978, Marry Gallagher was dragged into bushes, sexually assaulted, had her throat cut and had a ligature round her neck.

1980, Sinclair had a short spell in prison for illegally possessing a .22 calibre revolver and ammunition. Police investigations found he had committed a string of indecent assaults and rapes against boys and girls aged between eight and eleven.

1982 Sinclair pleaded guilty to 11 charges and was sentenced to life in prison.

2000, Police did a cold case review of the unsolved murder of Mary Gallagher, which had happened in November 1978. Among the forensic files there was a sample of semen which was DNA tested and showed a profile matching Angus Sinclair.

June 2001 Sinclair was convicted of the murder of Mary Gallagher, and received a further life sentence.

March 2005, after a cold case review following the Worlds end case being featured on BBC Crimewatch programme in 2003, a witness who claimed to be in the area on the night of the girls murders, came forward with new information. Plus, the advent of new DNA forensic testing meant police went to interview Sinclair in prison, they took mouth swabs from him.
Sinclair was then officially charged with the two murders.

October 2006, Sinclair appeared at the High Court in Edinburgh accused of raping and murdering Christine Eadie and Helen Scott, the Worlds end killings. The charges alleged he acted with his brother-in-law Gordon Hamilton who died in 1996.

27th August 2007, The trial begins at the high court in Edinburgh.

10th September 2007, the trial collapses.
Sinclair had denied attacking and killing 17-year-olds Christine Eadie and Helen Scott in what became known as the World's End murders case. Judge Lord Clarke said the Crown had insufficient evidence to proceed.
After the collapse of the trial there were many question, and several laws were changed in Scotland. The court subsequently directed the police to re-open the case, and conduct a new far-reaching investigation.
Interesting fact: This site was contacted in 2008 by Scottish Police and asked to remove the Angus Sinclair page so as not to prejudice any future trial.


13th October 2014, a new trial starts at the High Court of Justiciary sitting in Livingston.
At one stage the jury visited the scene of the murders in East Lothian. On
14th November 2014, Sinclair was found guilty of the murders of Helen Scott and Christine Eadie on 15 October 1977.
Following the conviction, Lord Matthews sentenced Sinclair to life imprisonment with a minimum term of 37-years to be served.
11th March 2019, Sinclair died at HM Prison Glenochil aged-73. Sinclair had suffered several stokes in the previous year, this had left him bed-bound and incontinent.
It is believed that Sinclair was responsible for the death of four other young women between 1977 & 1978.