Ricky & Danny Preddie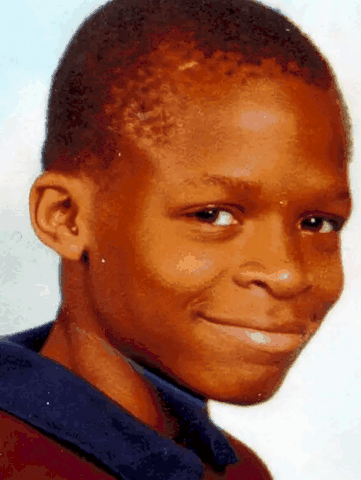 We normally show the face of the killer, in this case, We show the murdered 10-year-old boy, Damilola Taylor.
AKA
DOB
Ricky 1987

Danny 1988

Occupation
Kill Total
1
Kill Place
Peckham London
Kill Date
November 2000
M.O.
Stabbing
Victim
Damilola Taylor 10
June 2000, Damilola's family had moved from Nigeria to London in search of a better life.
27th November 2000,
10-year-old Damilola Taylor was walking home from Peckham library, he was attacked and stabbed in the leg with a broken beer bottle. CCTV later showed the 10-year-old skipping through a shopping centre in Peckham with a smile on his face. He escaped the attack, and in a stairwell on the Peckham estate he was bleeding heavily from the wound, he died in the ambulance on his way to hospital.
2002
, 4 youths went on Trial at the Old Bailey in London.
All four were acquitted, 2 were acquitted on the order of the judge, saying the prime witness, a 14 year old girl, was unreliable. The jury found the other 2 not guilty, and also questioned the reliability of young witnesses.
2005,
Police had kept the investigation live, and after new DNA techniques were used 3 people were arrested. The arrested were Hassan Jihad, aged-19, and two brothers aged 17 and 16 who could not be named due to legal reasons.
23rd January 2006,
Jhand, and two brothers aged 17, and 18 appeared at the old Bailey to face charges of manslaughter and assault.
29th March 2006
, The jury were unable to reach a verdict. The CPS (Crown Prosecution service) announced that there would b a re-trial.
9th August 2006
, Ricky Preddie, now aged 19, and his brother Danny Preddie, aged 18 went on trial at the Old Bailey. Forensic evidence, which was missed at the time, revealed tiny blood spots and fibres linking the brothers with Damilola.
Tuesday 11th September 2006,
The jury of 6 men and 6 women, found Rick & Danny Preddie, guilty of the manslaughter of 10-year-old Damilola Taylor.
Sentencing was deferred to allow for reports.
9th October 2006,
At the old Bailey, the judge sentenced the Preddie brothers to 8 years in youth custody. Both brothers were due for parole in 2010 after serving half of the sentence.
8th September 2010,
Ricky was released, subject to probation supervision.
13th March 2011
, Ricky Preddie was recalled because he was seen in Peckham, and was associating with gang members, both contrary to his parole conditions
September 2011
, Danny Preddie released.
Wednesday 25th January 2012,
Ricky Preddie released from Pentonville prison.
February 2012, Rick again recalled to prison after associating with gang members in Peckham, in breach of the terms of his release.
July 2012, Ricky Preddie released.
December 2013 sentenced for five months following a high-speed chase on a stolen motorbike.
November 2017, he was jailed again for six weeks for driving offences, and for an additional four weeks for failing to appear at his court hearing.
6th November 2019,
Ricky Preddy was driving an Alfa Romeo car in Wembley, north London, when police tried to stop his car,
Preddie stopped the car but reversed along the pavement before crashing into a police vehicle, causing leg and neck injuries to a female PC who was getting out of the car at the time. He ran off, but was caught and arrested 6 days later, on 12th November.
February 2020 Ricky Preddie was jailed for four years, and banned from driving for 12 years.