David Bradley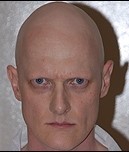 AKA
DOB
1966
Occupation
none
Kill Total
4
Kill Place
Newcastle
Kill Date
9 July 2006
M.O.
Shooting
Victim
Peter Purcell, 70
Josie Purcell, 70
Keith Purcell, 44
Glen Purcell, 41
| | |
| --- | --- |
| Court | Newcastle Crown Court |
| Judge | |
| Prosceution | Toby Hedworth QC |
| Defence | Paul Sloan QC |
| Case No: | |
Bradley, joined the army at age 22, he severed in Northern Ireland, Bosnia and kosovo, and more recently in the Royal Regiment of Fusiliers during the 1991, Gulf war.
After leaving the army, Bradley moved in with extended family, the Purcells in Newcastle, where he tried many different jobs, eventually he came to the attention of mental health services in October 1997, when he was referred by his GP after admitting he felt like he was "going to explode in violent outbursts".
Bradley lived an almost reclusive life in his bedroom at he house of the Purcell's, he started using cannabis to excess.
Psyciatric reports after his crimes stated that he had a dysfunctional relationship with his parents, violence towards his mother from a young age, a lonely and isolated adolescence, he sufferered extreme school bullying, as well as post-traumatic stress from his time in the army, all this left him mentally damaged beyond repair, according to reports.
It was also stated that shortcomings in his Mental Health treatment and missed opportunities by psychiatric staff meant any chance of avoiding the tragic outcome were lost.
Monday 10th July 2006, David Bradley of Benwell Grove, Newcastle, shot dead some of his family, including his uncle, aunt and two cousins.
Peter Purcell, aged 70, had been shot once through the right temple as he lay, probably sleeping, on the sofa in the sitting room.
His wife, Josie, aged 70, who was lying on the floor in the same room, had been shot through the right side of the head.
Their son Keith, aged 44, had been shot once through the left side of the head. Their other son, Glen, aged 41, had been shot four times in the head and neck.
Bradley shot his victims with a silenced pistol then calmly walked into a nearby police station carrying a rucksack containing a handgun and silencer, pump-action shotgun and ammunition and told police officers about the bodies in Benwell grove.
Northumberland Police commented that Bradley's rucksack also contained a home-made nail bomb, thus forcing the evacuation of the police station while bomb disposal officers from Catterick Garrison in North Yorkshire were called in to carry out a controlled explosion.

When police officers arrived at the terraced house they found two bodies in the living room and two in the kitchen of the house. All four were fully clothed and had suffered gunshot wounds fired at close range, but there were no reports of any gunshots having been heard, police also confirmed there were no obvious signs of a struggle having taken place.

Monday 10th July 2006 Bradley was remanded in custody to appear before Newcastle Crown Court on 18 July. Bradley spoke only to confirm his name, age and address during the 10-minute hearing at Newcastle Magistrates' Court. No application for bail was made.

Friday 15th September 2006. Bradley pleaded not guilty at Newcastle Crown Court A trial date was set for January 2007.

Monday, 29 January 2007, Bradley admitted the manslaughter charges on the grounds of diminished responsibility after two psychiatrists agreed he was mentally ill at the time of the killings.

Wednesday 9th April 2008. This site is not sure why this has taken so long, but today Bradley was sentenced to 15 years in prison for the 4 murders.

He will initially be held at Rampton secure unit for psychiatric assessment, then later transferred to prison.